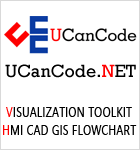 Download Evaluation

Pricing & Purchase?


E-XD++Visual C++/ MFC Products

Overview


Electronic Form Solution

Visualization & HMI Solution

Power system HMI Solution

CAD Drawing and Printing Solution

Bar code labeling Solution

Workflow Solution

Coal industry HMI Solution

Instrumentation Gauge Solution

Report Printing Solution

Graphical modeling Solution

GIS mapping solution

Visio graphics solution

Industrial control SCADA &HMI Solution

BPM business process Solution

Industrial monitoring Solution

Flowchart and diagramming Solution

Organization Diagram Solution

Graphic editor
Source Code

UML drawing editor Source Code

Map Diagramming Solution

Architectural Graphic Drawing Solution

Request Evaluation



ActiveX COM Products

Overview




Technical Support



Get Ready to Unleash the Power of UCanCode .NET
---
UCanCode Software focuses on general application software development. We provide complete solution for developers. No matter you want to develop a simple database workflow application, or an large flow/diagram based system, our product will provide a complete solution for you. Our product had been used by hundreds of top companies around the world!
"100% source code provided! Free you from not daring to use components because of unable to master the key technology of components!"
---
VC++ Ado Tutorial, VC++ Ado Sample, VC++ Ado Example
This is consist of 2 classes.
CDyndb : This Class manages connections and recordsets. Recordsets are organized as linked list (CList) and you can access them using their ids.
CDynRec : This class is the node to populate for each recordsets.
Simply follow these steps in order to use the ADO Example and Sample wrapper classes:
You need to add the following line stdafx.h :

#

import

 "c:\program files\common files\system\ado\msado21.tlb" no_namespace rename ("EOF", "adoEOF")


Call the OpenConn function

theApp.m_dyndb.OpenConn("driver=sql server;server=dogu;UID=sa;PWD=;database=dbtraining;");


Call OpenRec function

theApp.m_dyndb.OpenRec("select * from Courses");


Call GetFieldVal function to get the value of the fields. This function returns variant type. You can cast it as usual way like "short(variantdata);"

vardat=theApp.m_dyndb.GetFieldVal(0,2);


Call GetFieldType to get the type of the field. "en" has a definition like DataTypeEnum en; (see MSDN for details)

en=theApp.m_dyndb.GetFieldType(0,2);


Call GetFieldCount to get the number of the fields that selected in the recordset.

Call GetFieldName to obtain the name of the field.
To iterate through a recordset, you can use the m_pRecordSet member functions MoveXXX