Download source files - 43 Kb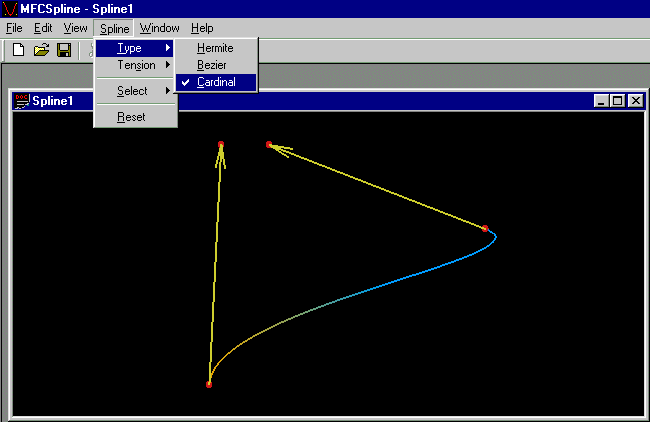 Introduction
This sample teaches you how to create an OpenGL based Spline Drawing application using the MFC library.
It shows how to setup 4 Control Points:
Start Point
End Point
Tangent Start Point
Tangent End Point
User Interactions
Right click to load the on screen context menu.
Left click and drag to move the selected control point around and see its effect on the spline.
From the Spline menu, you can select the Type of Spline: Hermite, Cardinal or Bezier.
In the same menu you can change the Tension of the control points effect on the spline.
You can also select different control points between: Start/End points and Start/End Tangent points.
Rquirements
The application requires opengl32.dll for windows which can be obtained from www.opengl.org.
Notes & Credits:
The original source code for the Spline Drawing Application is GLUT based and I found it posted on www.planet-source-code.com, OpenGL codes link. Please check the sample.