Circuit Diagram component with full VC++ draw
Source Code
UCCDraw is a set of components for creating professional-looking Circuit diagram graphics. UCCDraw can be used to create draw business diagrams, draw presentations, draw and Print organization and workflow charts, and design circuit diagram software and process flowcharts, database structures and much much more. Using UCCDraw you can easy to add Microsoft Visio like circuit diagram editor to your application. UCCDraw use next generation GDI+ circuit diagram drawing graphics.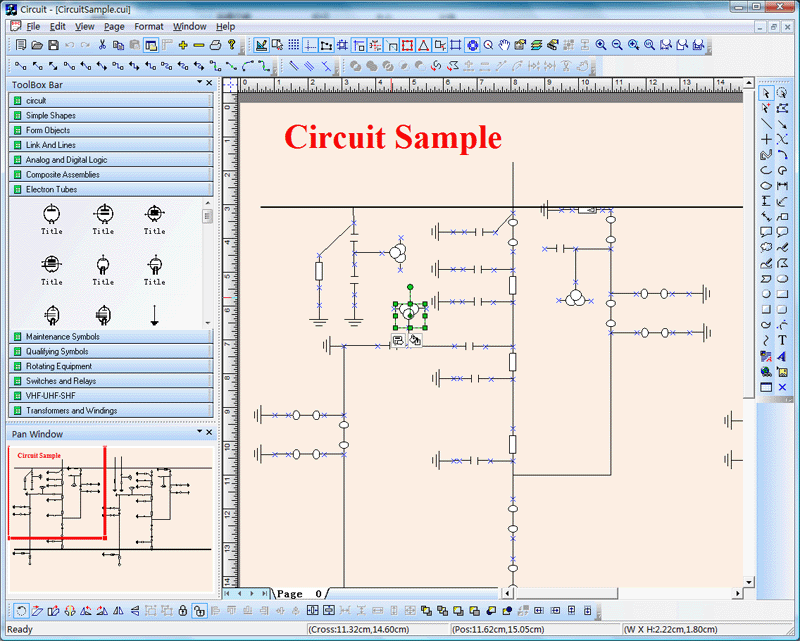 Visio like circuit diagram editor
Antialised 2D circuit vector graphics
Alpha channel support
Free rotation support
Shape grouping support
Very easy to use shape connection
Show and snap to grid support
Good blocks collection
Circuit link line with bridge
Rulers on different unit
Circuit diagram print preview component
Zooming in and Zooming Out
Panning
Unlimited Undo / Redo
Full Layer support
100% VC++ Source Code Shipped
Document can store in binary file, text file and stream
Learn more and Download
The leader in visualization component -- FULL VC++ Source Code Shipped!
XD++ Diagrammer Suite is the the world's leading VC++ and .NET visualization component. Renowned for incredibly rich graphics, XD++ helps thousands developers build applications that offer unparalleled functionality. Outstanding productivity lowers project risk and reduces maintenance headaches. With 20 years of dedicated research and development, UCanCode leads the market for visualization technologies, providing outstanding customer support.
The VC++ source codes of this tool is shipped with E-XD++ Library Enterprise Edition, order it now.

Powerful, flexible, and easy to use Diagram Components.
Powerful and flexible enough to create diagrams exactly the way you want them to appear. So easy to use that you will be able to prototype your application in just a few minutes.

Feature rich.
With features such as automatic layout, multiple layers, collapsible sub-graphs, snap-to connection points, XML, SVG, and more, E-XD++ Have the power and flexibility you need to create sophisticated diagrams, quickly and easily. Events such as click, double-click, hover, select, rubber-band select, copy, delete, resize and move are supported. Operations such as drag-and-drop, unlimited undo/redo, and clipboard operations are common and complex, and are expected by today's sophisticated users. it full supports importing ArcGis, SVG and DXF File format.

Performance and Scalability.
UCanCode E-XD++ Capable of handling many thousands of nodes and edges, up to hundreds of thousands depending upon the complexity of the nodes you wish to draw and the operations you wish to allow. Our graphical classes are extremely lightweight objects enabling outstanding performance.

Save Time and Money and gain Reliability.
A diagram is worth 1,000 words, and E-XD++ is shipped with more than 500,000 lines of well designed and well tested code! It is used by hundreds of the world's most quality conscious companies. It will saves you thousands of hours of complex coding and years of maintenance.


Use UCCDraw to build custom interactive diagrams, network or process or workflow editors, flowcharts, or software design tools. UCCDraw includes many predefined kinds of nodes, links, and basic shapes including text and images. It supports layers, groups, subgraphs, scrolling, zooming, selection, drag-and-drop, clipboard, in-place editing, tooltips, grids, printing, overview window with panning, and a palette for draggable nodes. Links can have labels and arrowheads, and their paths can be straight, rounded, or Bezier with different kinds of Pens and routed to be Orthogonal. Predefined node types include Balloon, BasicNode, IconicNode, TextNode, MultiTextNode, BoxNode, SimpleNode, GeneralNode, SubGraph. UCCDraw is 100% implemented in C++. Its Document/View/Tool architecture is very flexible and powerful. The classes provide many properties & events to make it easy to customize the appearance and behavior. UCCDraw includes extensive and useful sample programs with complete source code that you can modify and recompile. UCCDraw also includes extensive documentation in the User Guides, Reference Manual, and FAQ, answering most of the questions we've received over many years of supporting our XD++ product lines. The optional automatic layout components support rearranging the nodes in a diagram to make it easier to understand. Layout supports force-directed autolayout, incorporating electrical charge, gravitational mass, and spring length and stiffness), layered-digraph autolayout, for tree and hierarchical organization of directed graphs, and tree layout. There are no run-time royalties or deployment fees for UCCDraw components.

News

:

1 UCanCode Advance E-XD++ CAD Drawing and Printing Solution Source Code Solution for C/C++, .NET V2023 is released!

2 UCanCode Advance E-XD++ HMI & SCADA Source Code Solution for C/C++, .NET V2023 is released!

3

UCanCode Advance E-XD++ GIS SVG Drawing and Printing Solution Source Code Solution for C/C++, .NET V2023 is released!
---
Contact UCanCode

Software
To buy the source code or learn more about with: