Gis / Map Draw, Display Diagram Component, ArcGis Shape File Import,
Source Code Solution for C/C++, .NET

Product Tour E-XD++ and UCCDraw product walkthrough

Screenshots Applications built on E-XD++ ToolKit

Product feature comparison
The UCanCode E-XD++ Component Enterprise Edition product family enables you to develop Gis / Map based visualization applications quickly and efficiently. Map Displays with Custom Objects for .net and C++ Developers E-XD++ provides a complete mapping drawing, display, printing, software development kit (SDK) for creating any .net or C++ displays applications quickly and easily. The E-XD++ Library is a set of C++ classes designed with the purpose of simplifying the development process of MAP or GIS applications for programmers. It supports a wide range of basic map drawing and display features, including manipulating, displaying, adding customize spatial data. E-XD++ greatly simplifies MAP / GIS software development. With outstanding panning and zooming speeds. Developers can easily customize every aspect of the map display, from user interactions to the graphics that appear on top of the map.
Predefined graphic objects
Vast variety of predefined graphic objects, including lines, arrow lines, rectangles, shaded rectangles, polygons, polygons with holes, splines, ellipses, arcs, labels, icons and zoomable icons:
All objects editable and clickable

Customize foreground and background colors, line styles, thickness and background colors or patterns for vector objects

Aggregate objects into groups to form more complex objects

Write custom classes of graphic objects for creating specific objects, such as objects that will display more information when zoomed
E-XD++ Enterprise Edition Suite is a 100% C++ based diagram Component, it's Gis / Map Diagram Solution contains most basic features of building a high-quality map / gis visual Application.
With E-XD++ Enterprise Edition Suite, it has almost all the features of Microsoft' Visio on Diagram Drawing, Layout, Printing Part:
With shapedesigner application, you can use over 100 kinds of basic shapes to create very complex map / gis Diagram symbols Shapes.

The size of canvas can be created freely.

Advanced print and print preview supports, you don't need take any time on print and print preview.

Export to bitmap file or jpeg file supports.

Create new class shape by open a .H source code file.
XML Loading and Saving
SVG Importing and Exporting.
Auto CAD DXF Importing and Exporting.
ArcGIS Map file (Shape file) Importing.
More than 1,000 printer drivers.
Panning and zooming, zooming with slider control. Zooming with mouse wheel.
Full tested on all windows platform includes windows vista (32 bits, 64 bits).
Supports Visual Studio 6.0, Visual Studio 2013, Visual Studio 2015, Visual Studio 2017, Visual Studio 2019, Visual Studio 2023
Ships with full documents and 100% source codes.
All the vc++ source codes of the following screen shots will be shipped with full edition of E-XD++ Enterprise Edition Suite:

Here is a screen shot of the MapDemo sample: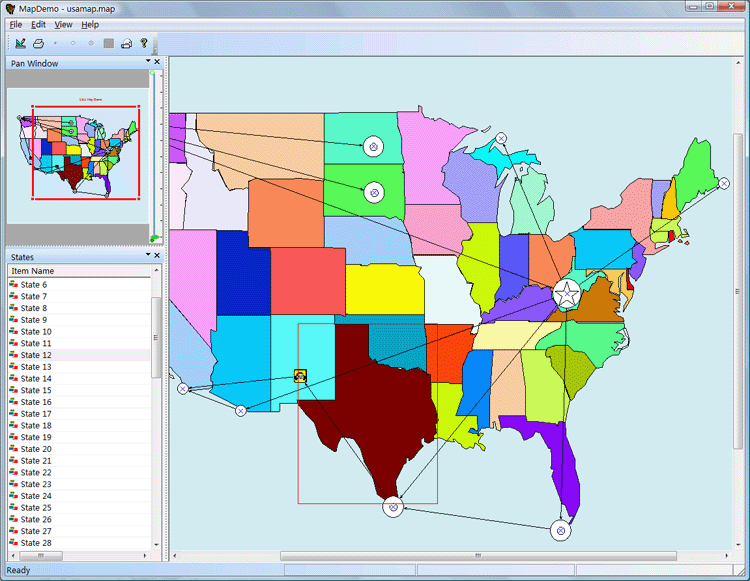 and MapPanel Sample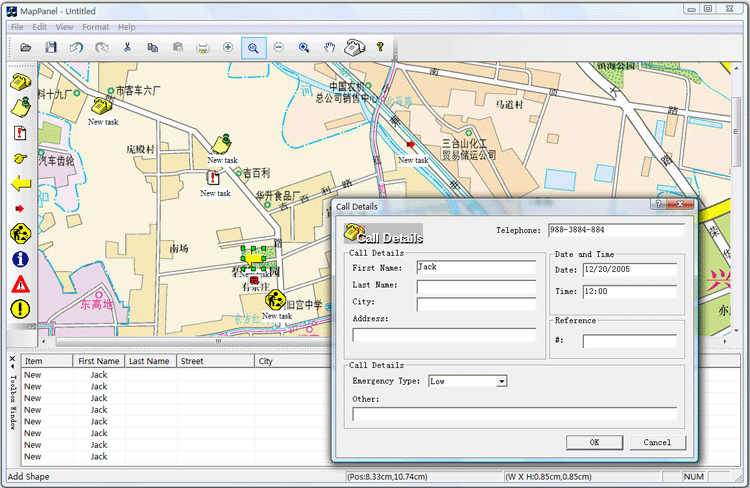 Notes: this sample shows how to add custom property values to any shapes on the canvas. Then with a dialog to change these property values.
Sample AdvanceExport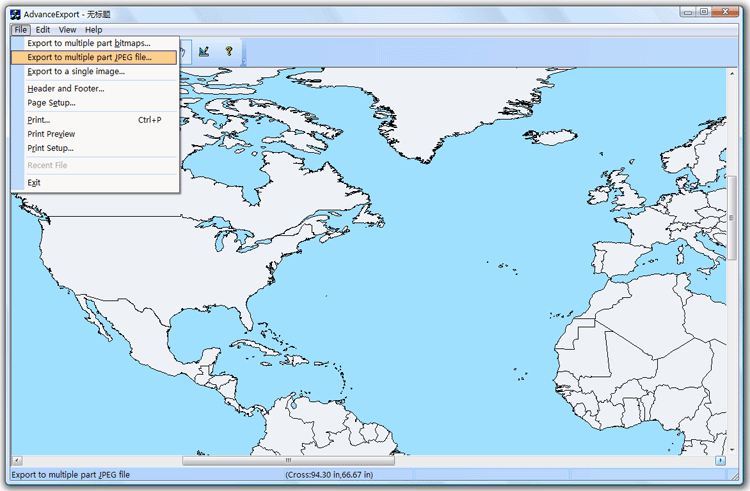 Note: this sample shows how to split a large canvas into many small images (Bitmap images or Jpeg images), it also shows how to use panning feature to move the canvas.

UCanCode E-XD++ is also the best source code component for adding any kind of organization chart diagram drawing feature to your own application, it was designed specifically to help you create diagrams for human resources management, staff organization, office administration, and management structures. It will help you visualize and structure information, add illustrations and drawings to your documents and make all this fast and easy, currently, it supports horizontal and vertical tree layout, layer layout..., it is full written with VC++ Source Codes.

Through its Java, .NET and C++, and Flex/AIR graphics libraries and components, UCanCode provides the industry's most comprehensive set of graphics tools for creating sophisticated, interactive user displays. UCanCode's graphics products enhance decision-making speed and ability by making vast quantities of complex data more comprehensible and manageable for users. Developers save 50 to 80 percent of development time when creating displays with UCanCode Visualization.

The leader in visualization component -- FULL VC++ Source Code Shipped!

XD++ Diagrammer Suite is the the world's leading VC++ and .NET visualization component. Renowned for incredibly rich graphics, XD++ helps thousands developers build applications that offer unparalleled functionality. Outstanding productivity lowers project risk and reduces maintenance headaches. With 20 years of dedicated research and development, UCanCode leads the market for visualization technologies, providing outstanding customer support.

Powerful, flexible, and easy to use Diagram Components.
Powerful and flexible enough to create diagrams exactly the way you want them to appear. So easy to use that you will be able to prototype your application in just a few minutes.

Feature rich.
With features such as automatic layout, multiple layers, collapsible sub-graphs, snap-to connection points, XML, SVG, and more, E-XD++ Have the power and flexibility you need to create sophisticated diagrams, quickly and easily. Events such as click, double-click, hover, select, rubber-band select, copy, delete, resize and move are supported. Operations such as drag-and-drop, unlimited undo/redo, and clipboard operations are common and complex, and are expected by today's sophisticated users. it full supports importing ArcGis, SVG and DXF File format.

Performance and Scalability.
UCanCode E-XD++ Capable of handling many thousands of nodes and edges, up to hundreds of thousands depending upon the complexity of the nodes you wish to draw and the operations you wish to allow. Our graphical classes are extremely lightweight objects enabling outstanding performance.

Save Time and Money and gain Reliability.
A diagram is worth 1,000 words, and E-XD++ is shipped with more than 500,000 lines of well designed and well tested code! It is used by hundreds of the world's most quality conscious companies. It will saves you thousands of hours of complex coding and years of maintenance.

Download Prebuild Map sample
The VC++ source codes of this sample is shipped with E-XD++ Library Enterprise Edition, order it now.

---
Contact UCanCode

Software
To buy the source code or learn more about with:

Next--> HMI and SCADA Process Flow Diagram Component Solution from UCanCode-- Full VC++ Source Codes

Next--> GIS and SCADA, SCADA Software With GIS, Real - Time Software with GIS, Source Code solution for C/C++, .NET