UCanCode ActiveX is an ActiveX Diagram Component that enables you to build Visio-style flow charts diagram from within your application. It can be used with any .NET (C#, VB.NET) Platform, UCanCode ActiveX is a compact but powerful 2D vector editor with similar to Visio functionality. UCanCode ActiveX could be used to create diagrams, network diagrams, flowcharts, schemas, mind maps and so much more. You can use predefined blocks, primitive shapes, raster and vector images. The collection of blocks and it's attributes could be modified and extended. Working in UCanCode ActiveX requires no particular drawing skills, more features as below: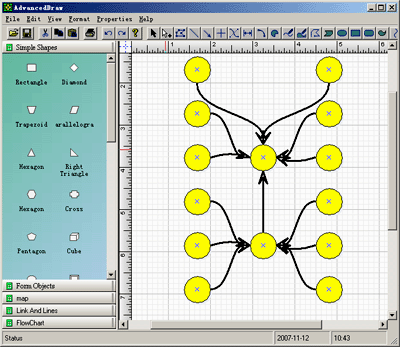 Allows you to create flow charts, vector drawings, raster images and more with the ability to include hyperlinks and various shading and coloring effects. You can group objects together, include images and text, link them together and apply custom drawing effects to create charts similar to Microsoft Visio, Adobe Illustrator, and CorelDRAW.
UCanCode ActiveX can give graphical presentation to:
Workflow processes;

Object hierarchies and relationships;

Graphs and networks;

Entity-relationship / database diagrams;

IVR systems;

Industrial automation processes;

Genealogy trees;

Algorithms and flowcharts;

Organizational charts;

XML documents;

CAD or SCAD applications

Label Printing

E-Form Editor

Classification hierarchies;

And much more;
UCanCode ActiveX Control is an ActiveX control encapsulating a powerful 2D graphic editor for Windows. It can be easily integrated to the modern Integrated Development Environments like:

Visual Studio.NET,


Visual C++,

Visual Basic 6.0,


Borland Delphi,


Borland C++ Builder,


Microsoft Java
The wide collection of the methods, properties and events give you full control over the drawing engine and let you associate specific business logic with designed shapes and images. At the developer's discretion, a powerful range of end-user editing capabilities can be enabled.
1. 100% Redistribution is royalty free, you need only pay for it one time, there is no limits with it's distribute.
2. The 100% source codes can be purchased with E-XD++ MFC graphics product.
3. UCanCode provides UCanCode ActiveX with 6 months free technical support and upgrades with every license bought.
4. Full tested with the latest edition of Visual Studio 2005 (Visual C#, Visual Basic .NET, Visual C++ .NET), and Delphi, Java, etc.

1. Over 130 Default shapes that can be used for building your own application.

2. With shape designer you can create any kind of composite shapes that supports drag and drop.

3. UCanCode ActiveX ships a Visio 2007 like toolbox window.

4. UCanCode ActiveX has the world leading drawing, editing , layout features.

5. UCanCode ActiveX supports full control of printing for any drawing.

6. Export any drawing to emf, bitmap or wmf files.

7. Add as many connect points to any nodes.

8. Create links between two connect points (Port).

9. Navigate the links or nodes that linked.

10. Multiple records Label print component or Report print.

11. Adding, Changing or setting User Property Value.

12. Running time and Design Mode.

13. Why you need UCanCode ActiveX Component?

14. Download UCanCode ActiveX Control before you buy?